Powersports Business - August 16, 2023
Off-road EV maker Taiga doubles Q2 revenue
Taiga says its production has seen a strong ramp-up lately, and produced 178 snowmobiles and personal watercraft (Orca Carbon) during Q2.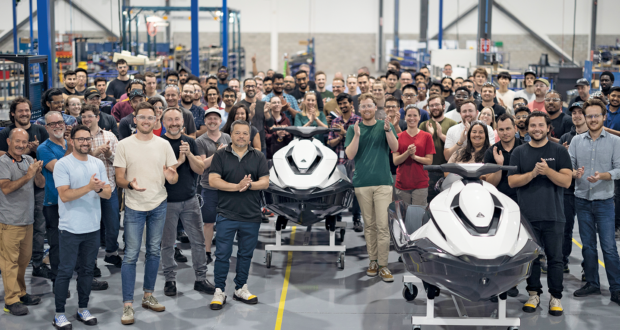 Racing
Jett Lawrence wins 2023 Pro Motocross Championship with potential for a perfect season
Jett Lawrence went wire-to-wire once more for moto win 18 to complete a perfect afternoon, taking the championship-winning checkered flag 9.2 seconds ahead of Chase Sexton. Dylan Ferrandis finished in a distant third.
Electric
Volcon reports Q2 '23 results
The company expects to launch the Stag to dealers in Q4 of this year. And it has taken preorders of more than $115 million of expected revenue for the Stag (if all orders are fulfilled).
Dealers
Royal Enfield to display original "motor bicycle" replica
Royal Enfield's one-of-a-kind Project Origin "motor bicycle" 1901 replica will make its New England debut on September 29 at "The Gathering at Rough Point."
Dealers
New Hampshire dealership sold after 45 years of same ownership
Freedom Cycle of Concord, New Hampshire, established in 1977 by Rupert Dance, has been acquired by the MOMS dealership group.
Dealers
Segway Powersports invites industry to watch product reveal
The live-streamed Keynote address will include a technical presentation highlighting the many innovative performance, safety, and comfort features of its latest model introduction for the U.S. market.
BLOG SPOTLIGHT
PSB highlights July aftermarket products
Latest aftermarket products from Drag Specialties, Moose, and SSV Works include a clutch shell, Predator III Seat, Spare Belt Case, electronic smart switcher, and more.
PREVIOUS TOP DAILY STORIES
Tucker Powersports to be acquired by automotive aftermarket distributor Turn 14 Distribution
WPS named exclusive distributor for System 3 Off-Road
The 2022 Market Data Book
The Magazine Digital Edition Archive
FOLLOW POWERSPORTS BUSINESS
This email was sent to you on behalf of
Powersports Business

For more news and information visit powersportsbusiness.com and the Subscription Center
Copyright © 2023 EPG Brand Acceleration
10405 6th Avenue North | Suite 210 | Minneapolis, MN 55441